WEBSITE Redesign and ROLLOUT
In much of Canada's urban and suburban landscape, Cineplex is synonymous with the multiplex movie and entertainment experience.
The redesign I worked to implement (2016-18) involved design, refinement and rollout for every part of the front-end experience. The work extended through digital signage, special promotions, product launches and consistently involved new and experimental techniques to modernize the workflow and experience at once.
Cineplex of the 21st century is corporate, enterprise scale entity with a massive footprint in entertainment and digital media. From my own childhood Cineplex meant 'going to the movies', it was a great opportunity to work with a fantastic team on an iconic Canadian brand.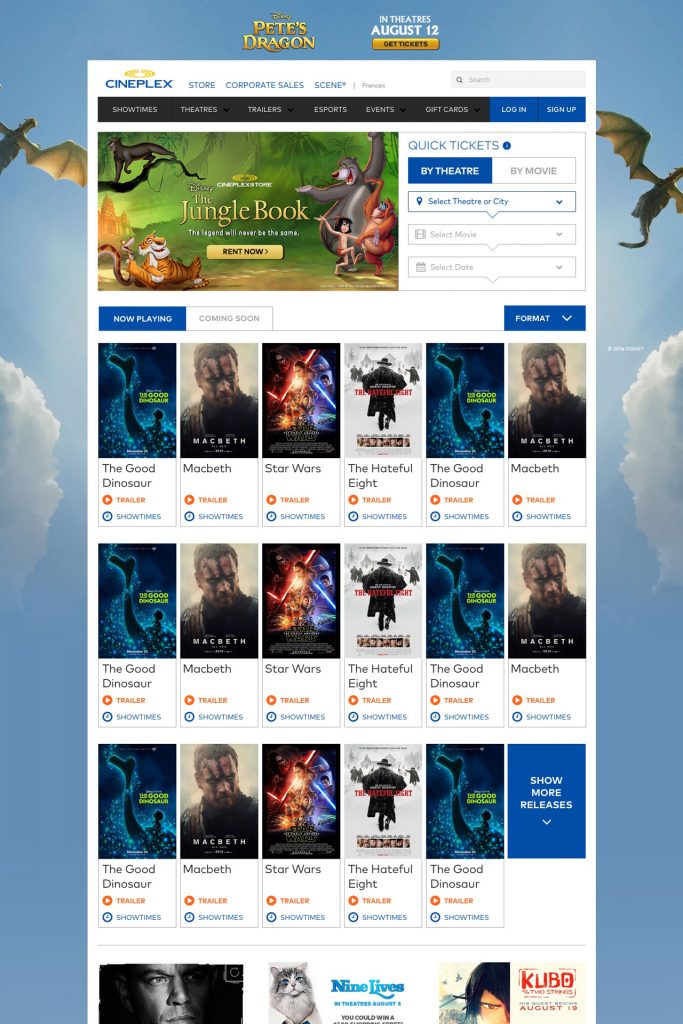 USER INTERFACE STYLE GUIDE
A complete library of mockup assets were developed for each series of user journey's and interactions. While the back-end systems were being built, a living style guide was deployed to support the new interface across pages and content on a page by page basis with a set of simple drop in style sheets and scripts. New design elements and interface could be employed in live settings, long ahead of implementation as back-end modules or widgets.
RAPID PROTOTYPING AND ROLLOUT
Working as UX and UI designer and front-end developer on this project, over two years, leveraged an incredibly diverse set of skills from my own toolkit. To deliver across the huge range of projects and interfaces that were captured in the website overhaul, a blended approach of mockup prototyping, CSS3, HTML5 and JS drop-ins supported the project's pace and roll-out.
This method allowed for the redesign to be deployed across the websites and apps in advance stages while the back end integrations were being built to ingest and construct CMS (Agility) templates and modules based on the style guide and tested solutions.