Digital DIRECTION for BioTech Innovator
Working with Arch Biopartners for nearly a decade, the company's migration to the Bensonmakes OpnStockn suite and our ongoing pursuit of new targets and growth is a treasured experience for me as a designer and creative director.
The 2021 rollout and migration is a showcase example of how Arch Biopartners could benefit from low cost, open source and custom made tools designed to optimize the CMS for a the needs of a public company. Every element of the user interface and experience has been customized to deliver and to demonstrate a completely bespoke user interface entirely standardized to represent the Arch Biopartners brand at every interaction and touchpoint.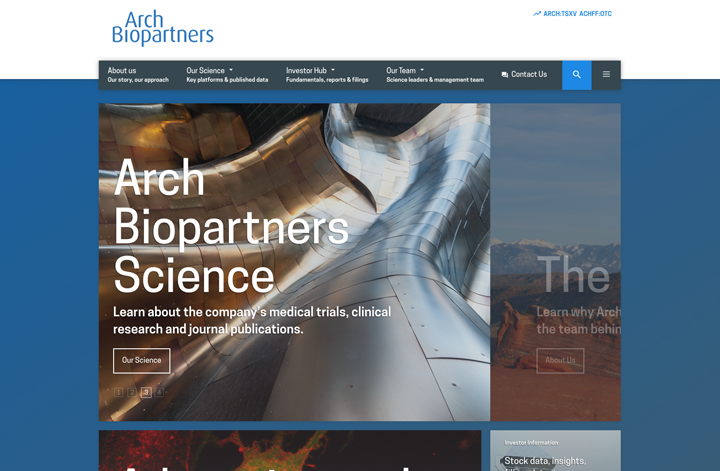 Check out Arch Biopartners site (new tab), make sure to sign-up for email news alerts.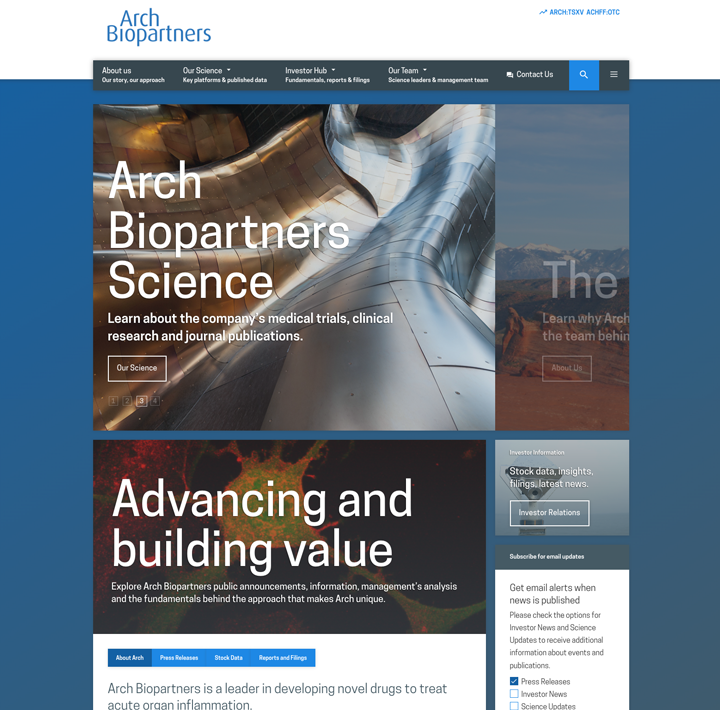 Web for companies in Public Markets
Digital strategy and brand for a company like Arch Biopartners requires enterprise solutions and baked in planning to adapt to scale in every element. A comprehensive design and brand message is one component of a complete solution. This site includes best practices and compliance for time sensitive disclosures, quality content, archives, and overall resilience and security. All these elements come together efficiently in a solution that provides a high degree of freedom and flexibility as the company adapts and grows over time.
Animation Everywhere
The interface and total experience relies on subtle animation effects used everywhere throughout the entire website interface. Never off-putting – and usually meant to fade into the background of the user's experience – these effects can be found in constantly shifting backgrounds, images with slightly changing hues, and buttons that deliver simple responses.
This interface demonstrates that the OpnStockn solution is built to animate anything and everything, to deliver a slow, ever changing interface designed to help tell the company's story in a setting built to convey the steady, ever calm and totally directed vision that is Arch Biopartners.