AI, chatGPT in the toolbox
February 13 2022 – TeSTING OUT CHATGPT IN THE TOOLBOX
Blog post number two – yeeeeeahhh!
While I've been working on some brand new projects and working hands on learning new technology to support an Electronic Data Capture (EDC) project – I've been unable to stop watching the rapid growth of ChatGPT as it flows across the entire digital landscape at the outset of 2023.
My initial forays into testing out how to use ChatGPT have been to use it most simply for writing or re-writing text blocks, and then to do much more complex tasks like re-evaluating all the plugins that I use to support my clients with OpnStockn.
The immediate usefulness of a natural language processing tool, to enhance the workflow and development process for me – a rapid prototyping, front-end designer and developer – is totally clear. Just as much as I use a code editor, and photoshop and sketch and figma – I'm going to be using ChatGPT and its descendants as part of the routine toolkit.
For production ready code – the contributions from ChatGPT are non-functional – however, with a little fine tuning, a little engineering and some revision – the tool provides me with ideas and alternate approaches worth pursuing, and worth examining and testing against my own approaches. The code itself is not useful – the new ideas and alternative approaches, and new questions they prompt have already jumpstarted my own thinking and process.
Stay tuned for updates as I enhance my own toolkit here, and keep an eye out for demos and how-tos as I advance the upcoming versions of the OpenStockn toolkit.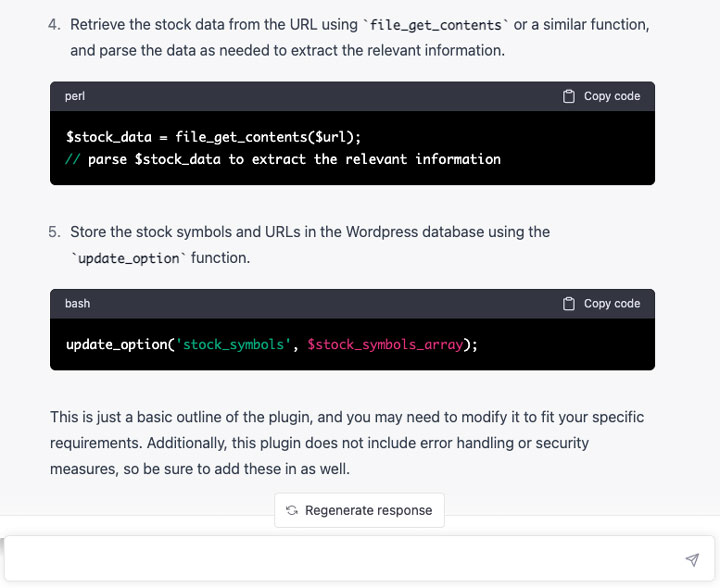 The results of a basic request to ChatGPT to describe an approach to handling stock data on a WordPress website. In this case I asked for detailed instructions on how to create this solution (which is not functional btw).
On the day-to-day, in design practice – I can barely stop myself from thinking – "how can I use ChatGPT here?" here. For example, I often need to be able to visualize content in place before its been generated. Where I am working on a layout or concept and – "I need a headline", "I need a sub heading", is a common refrain. Here again, the content isn't ready for production, instead its helping me build out a project in new ways that remove some blocks, in the form of a willing sidekick (AI), providing dedicated attention and willing to take on any task I can describe.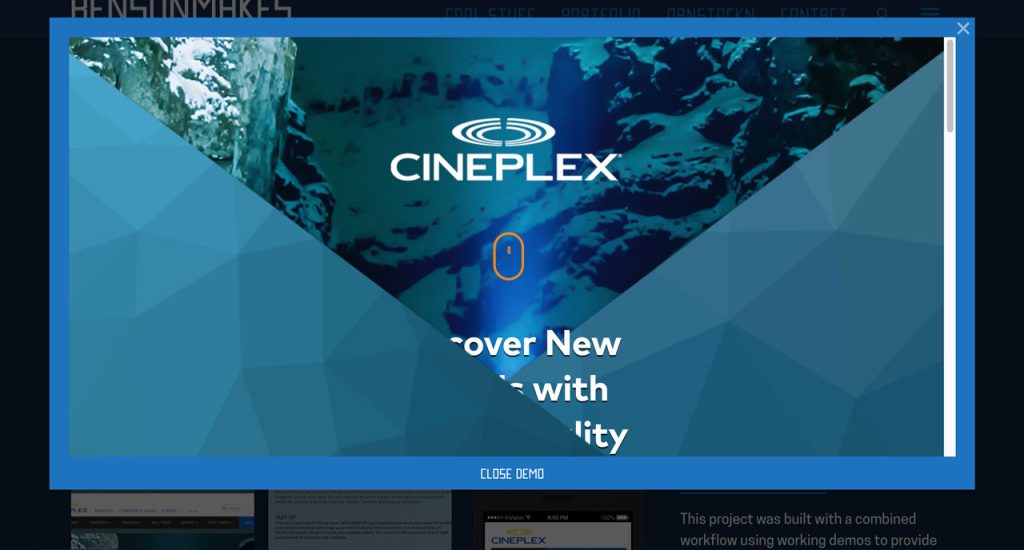 This Cineplex VR (IMAX and D-BOX) Experience demo has been completely rebuilt for this website to allow a more natural, and fully embedded experience. More like this to follow 🙂
New MODALS in the PORTFOLIO
Since I launched this site a few months ago, I've spent some time improving the UI to support more complex demos or portfolio examples. I wanted a way to show complete sites or experiences within a 'nice' modal window that may itself contain popups, modals or other embedded UI, frameworks and dependancies – the solution needed to be super flexible.
Frequently I'll host test versions, demos and proof of concept tests on my own servers when I'm developing an idea or solution. That content – interactive UI design, motion based interfaces and prototypes in general – has traditionally been challenging to present outside of its original context. This new portfolio tool (and this website) will unlock lots of that content and help make these samples more rich and more fun overall!
What's Up
Look for stories, tips and techniques on open source tools, cloud hosting stuff, cool design tools and features, freebies, rapid prototyping, new design and interface technologies and articles.
Don't forget to subscribe to Cool Stuff on the Contact page to get the latest on new posts and demos.